Are you intrigued, interested or worried about any of these questions?
We have a simple vehicle to address them. It usually takes 2-3 months to get to the bottom of it and have a crafted plan of action.
Should we go 'bottom up'? (And what is it, exactly, anyway?
How can we involve the real influencers in the company, and who are these people? The nice guys? The role models? The chronic volunteers?
We have concrete challenges in concrete areas. Do we need to look at the overall culture, or fix them first?
How long will it take to change the culture?
Should we involve top leaders first and then progress wider
Does 'starting small' work? Starting with small wins?
So many pieces of 'change' and 'initiatives'! All for a good reason but, who is connecting them and making sense of the whole? Are we doing this?
Is company culture an HR responsibility?
Do we start at the top or somewhere else with traction?
We have a business strategy, a marketing and commercial strategy, even HR and Talent Management strategies. Do we have a culture strategy?
We have tried before. Long and consuming 'culture change' programmes. Not a great track record. Why?
There are many 'models of change'. They all seem OK on paper but not many people are satisfied. What is the trick?
We communicate well and professionally, but nothing happens in the end, what's missing?
Can culture really be changed? At least in the short term?
We know what we need to do. We just need some help with the implementation. Oh! Wait a minute!
We have a 'change management' function but it seems to be focused on IT implementations and transformations. Is that what it is?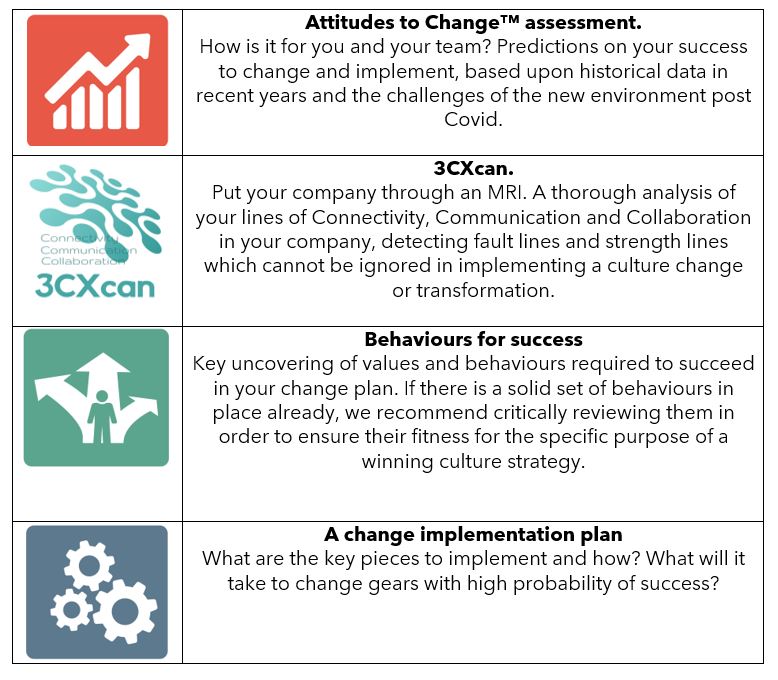 There may be other analysis and interventions adjusted to your needs and circumstances, but you'll have actionable plans in 2-3 months.
For more information call our UK team on (+44) 01895 549158, email [email protected] or complete the short form below and we'll come back to you.